I bought a solo ad from Abel Chua – and he does things a bit differently instead of selling clicks he sells you on the amount of optins he generates for you. Which for most people that seems like a better way to go. Because when it boils down to it we'd rather have the conversions then just a bunch of clicks. I ended up buying 50 optins from Abel for $35 which would be $0.70 per optin.
Here's my receipt: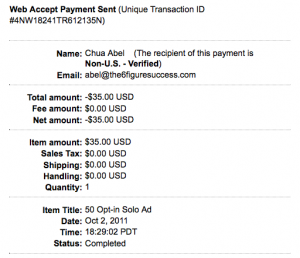 Here are my results:

Abel ended up generating 64 optins for me which is 14 extra which is $0.55 a subscriber
I'd recommend having Abel build your list this way, it's an affordable way to get going.
Have you bought a solo ad from Abel? Tell us your results below
Go here to buy a solo ad from Abel Chua